School Crossing Guard & Traffic Control Services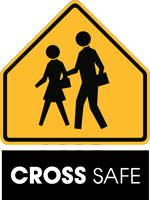 Cross Safe, a program provided by Park Inc, provides safe and reliable crossing guard and traffic control services to municipalities, school districts and other organizations. Whether you are looking for a seamless transition from your existing program, or need to implement crossing guard services for the first time, Cross Safe offers a professional, turnkey solution.
Let Cross Safe handle your personnel recruitment, background checks, human resource and payroll services, along with site safety inspections, staff training and supervision, and effective communications with each school.
Cross Safe maintains comprehensive General Liability Insurance and Worker's Compensation Insurance to cover both our clients and employees. Our safety and training standards help us to significantly reduce the risk of accidents involving our crossing guards, pedestrians, and most importantly, your students. Each member of our team is alert, knowledgeable about local traffic laws, and trained to effectively communicate with individuals of various ages and levels of management.