Alabama – The Heart of Dixie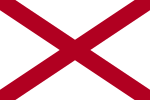 If you hear rallying cries of "Roll Tide" and "War Eagle" you'll know you're smack dab in the middle of an Alabama college rivalry. Montgomery is the capital of this state, which is the only state that has all the major natural resources to be the largest supplier of cast-iron and steel pipe products. Huntsville earned the moniker "The Rocket Capital of the World" and the beautiful city of Mobile is right on the water. Alabama has a long history and like many other southern states historic architecture is pleased to share space next to modern buildings.
So whether your Alabama business has valet parking for a small, family-owned restaurant or a small lot for a retail store, Park Inc can help. If you need parking solutions for larger businesses such as hotels or a college game, we can assist you with those needs as well. If your business needs a short-term solution or long-term management, our experienced staff can tailor a package to meet your needs.
Park Inc Coverage Areas in Alabama Include:
Auburn, AL
Birmingham, AL
Decatur, AL
Dothan, AL
Florence, AL
Gadsden, AL
Hoover, AL
Huntsville, AL
Madison, AL
Mobile, AL
Montgomery, AL
Tuscaloosa, AL
At Park Inc we have multiple talents from which to draw when it comes to creating parking solutions for your Alabama business.
We provide the following services:
Parking Lot / Parking Garage Management
Airport Parking
Hotel Parking Management
Hospital Valet Parking Service
Restaurant Valet Parking
Special Event Valet Parking
Retail Parking Management
Park Inc allows you the pleasure to do what you enjoy doing, which is focusing on your business. Leave it to Park Inc professionals to handle your parking needs.
Our hardworking, professional employees do everything they can to ensure your customers' vehicles remain protected while on your property.
Give Park Inc a call today and see how we can be of service to you.