Delaware – The First State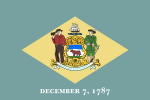 Known as The First State, Delaware's largest city is Wilmington while its capital, Dover is the second largest. Only the state of Rhode Island is smaller than Delaware. Most of the state is on a coastal plain, except for the northern part of the state, which is comprised of rolling hills. Rehoboth Beach combined with the towns of Bethany Beach, South Bethany, Dewey Beach, Lewes, and Fenwick Island make up the state's beach resorts.
Seafood and other tasty treats are big in Delaware. Horseshoe crabs, blue claw crabs, chicken and slippery dumplings, the Nic-o-Boli, fries with vinegar, scrapple, and Delaware style hot dogs all make it on the menu in this state. Go all out with the Delaware Destroyer at Johnnie's Dog House & Chicken Shack. It's made of two dogs topped with grilled onions, mac and cheese, chili, and hot sauce. Yum, yum!
If you own a restaurant, beach resort, or other business in Delaware, Park Inc can provide professional services from valet parking to parking garage management and everything in between. Our professionals can create a custom made parking solution for your business.
Park Inc provides these professional parking services in Delaware:
Parking Lot/Parking Garage Management Services
Special Event Valet Parking
Airport Terminal/Shuttle
Hotel Garage and Valet Parking
Hospital Patient Parking
Retail Shopping Mall Parking Management
Restaurant Valet Parking
Park Inc can provide you and your customers with peace of mind that their belongings will remain safe while they are doing business with you. Whether your needs are short- or long-term, we can help you by taking charge of your parking lot or garage and overcoming any challenges you may have.
Park Inc Coverage Areas in Delaware Include:
Wilmington, DE
Dover, DE
Newark, DE
Middletown, DE
Bear, DE
Glasgow, DE
Hockessin, DE
Brookside, DE
Smyrna, DE
Pine Creek Valley, DE
Give Park Inc a call today and let us show you how we can make your business more efficient.