Georgia – The Peach State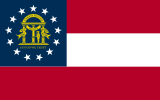 When most people think of Georgia they think of Atlanta because it's the capital and the largest city in the state. In addition, the Atlanta airport is the busiest in the country so if you haven't yet, you will one day catch a connecting flight out of there – even if it's to your final destination – heaven.
Many other magnificent things exist in the state of Georgia. Vidalia onions so tasty some people eat them like apples. Peanuts, a Georgia staple, boiled, roasted, or made into butter. North Georgia has an impressive display of mountains and the east coast has a spectacular view of the Atlantic Ocean.
Park Inc has locations in multiple cities throughout Georgia and we're happy to provide customized parking lot and parking garage management solutions. We provide our clients with a number of services and can tailor a plan that will best suit you and your customers.
Park Inc Coverage Areas in Georgia Include:
Albany, GA
Alpharetta, GA
Athens, GA
Atlanta, GA
Augusta, GA
Columbus, GA
Macon, GA
Marietta, GA
Roswell, GA
Sandy Springs, GA
Savannah, GA
Valdosta, GA
We provide the following services in Georgia:
Airport Terminal/Shuttle
Hospital Patient and Visitor Parking
Parking Lot/Parking Garage Management Services
Restaurant Valet Parking
Retail Shopping Mall Parking Management
Special Event Valet Parking
Whether your business has a parking lot, parking garage, or needs more thorough and experienced management, Park Inc can help.
We take the time to get to know each city's neighborhoods and parking requirements so we can anticipate challenges BEFORE they arise.
When you have the parking experts at Park Inc on your team, you can focus on what you do best – your business. Leave the parking to us.
Our highly professional and hardworking employees do everything they can to ensure your customers' vehicles remain safe at all times while on your property.
See how Park Inc can be of service to you and your customers when you give us a call today.