Illinois – Land of Lincoln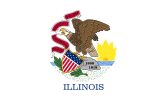 The midwestern state of Illinois is made up of forests, farmland, hills, and wetlands. Chicago is one of the largest cities in the United States and sits on the shore of Lake Michigan. Illinois is nicknamed "Land of Lincoln" because it was the home of the 16th president, Abraham Lincoln. His first job in the state was as the postmaster in New Salem. Even those destined for greatness have to start somewhere.
For Illinoisans the biggest pet peeve is when they hear people pronounce the "S" when saying "Illinois". They are also very loyal to DA BEARS! Also, if you ever notice the Chicago River is green it can only mean one thing – it's St. Patrick's Day.
The Chicago metropolitan area consists of business, nightlife, shopping, museums, living spaces, and more.  Therefore, the need for urban parking solutions is paramount. An array of Illinois businesses, restaurants, shopping malls, and theaters already rely on Park Inc to provide professional parking services.
We provide the following services in Illinois:
Airport Terminal Parking and Shuttle Service
Casino Parking
Hospital and Medical Center Parking Management
Parking Lot/Parking Garage Management Services
Restaurant Valet Parking
Retail Shopping Mall Parking Management
Special Event Parking for Weddings, Parties, and Sporting Events
At Park Inc we do our research and really get familiar with all of our clients' neighborhoods and their unique parking requirements. Whether we're managing valet parking service for a small, family-owned restaurant or offering parking solutions for international airports, we're ready to assist you with any and all parking needs.
Park Inc Coverage Areas in Illinois Include:
Arlington Hts., IL
Aurora, IL
Bloomington, IL
Champaign, IL
Chicago, IL
Decatur, IL
Elgin, IL
Joliet, IL
Naperville, IL
Peoria, IL
Rockford, IL
Springfield, IL
Waukegan, IL
Whether you need a short-term solution or a long-term management contract, Park Inc has the staff and expertise to provide the services your business will benefit from the most.
Contact the parking experts at Park Inc today!