Indiana – Hoosier State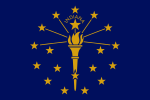 There's a little bit of Indiana everywhere you look. Ever wonder where your popcorn comes from? Indiana's massive corn crops produce about 20% of the entire country's popcorn. If you hear "Drivers start your engines" and then smell exhaust fumes, you must be enjoying a race at the Indianapolis Motor Speedway.
Limestone from Bedford, Indiana was used when building the Empire State Building in New York City, the Pentagon and National Cathedral in Washington, D.C., and multiple state capitols. Gary Indiana was home to one of the most famous American musical families. Maybe you've heard of them? You know, the King of Pop and all his siblings.
There are numerous Indiana health care facilities, businesses, and restaurants that trust Park Inc to be their parking solutions expert.  Our mission is to make parking an easy and pleasant experience for you and your customers.  Whether you need valet service for a special event or parking garage management, Park Inc can handle it all with professionalism and integrity.
 We provide the following services in Indiana:
Parking Lot/Parking Garage Management Services
Hospital Valet Parking Service
Hotel Parking Management
Restaurant Valet Parking
Special Event Valet Parking
Retail Parking Management
Park Inc Coverage Areas in Indiana Include:
Bloomington, IN
Carmel, IN
Evansville, IN
Fishers, IN
Fort Wayne, IN
Gary, IN
Hammond, IN
Indianapolis, IN
Muncie, IN
South Bend, IN
Park Inc operates in the east and midwest, and we make it a point to get to know the neighborhoods where our clients do business and to understand your unique parking requirements. Whether your business or organization needs a short-term solution or long-term parking management, our experienced staff will tailor a package to meet your specific needs. When Park Inc is part of your team, you can focus on your business, and we'll handle the parking.
Call Park Inc today to find out how we can create solutions to your parking management challenges.