Louisiana – The Pelican State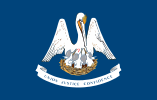 Louisiana is a melting pot of influences from many cultures. In music, you can hear how Zydeco, French, and Cajun have shaped the style of music. And of course, let's not forget Louisiana is the birthplace of jazz.
Food is also brimming with an infusion of tastes and cultures. Whether it's shrimp gumbo, beignets and champagne, or a King Cake for Mardi Gras, the state is a fine example of how music, food, culture, and history can intersect to make for a great party.
If your Louisiana business has challenges when it comes to parking whether it's all the special events or just another day of the week, Park Inc can provide a parking management solution to meet the needs of your neighborhood, customers, and business. We are experts at creating customized parking lot and parking garage management solutions.
We provide the following services in Louisiana:
Parking Lot/Parking Garage Management Services
Airport Terminal Parking/Shuttle Service
Hotel Garage and Valet Parking
Hospital Patient Parking
Special Event Parking
Restaurant Valet Service
Retail Shopping Mall and Parking Management Services
The best compliment we can receive is that parking is easy and pleasant for your business's customers. Whether you need a long-term parking solution or are having a one-time event and need personalized valet service, Park Inc will tailor a professional solution that takes the worry out of parking for both you and your customers.
Park Inc Coverage Areas in Louisiana Include:
Alexandria, LA
Baton Rouge, LA
Bossier City, LA
Houma, LA
Kenner, LA
Lafayette, LA
Lake Charles, LA
Metairie, LA
Monroe, LA
New Iberia, LA
New Orleans, LA
Shreveport, LA
The experts at Park Inc are capable of managing valet parking service for small, family-owned restaurants or other businesses to offering long term parking solutions for large international airports, shopping malls, and casinos.
So if you want to find out how the experts at Park Inc can take care of all your parking needs while allowing you to concentrate on your business, give us a call today!