Maryland – The Old Line State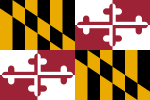 Maryland is home to a variety of terrain from mountains and farmland to beaches and sand dunes. Even though its location is mid-north, the state experiences all four seasons.
Maryland has lots of waterways and coastlines on the Chesapeake Bay and Atlantic Ocean. Annapolis is the capital but Baltimore is the largest city and has a history as a major seaport. The Baltimore Ravens football team is named after The Raven, a famous poem by Edgar Allan Poe. Enjoy a Ravens game while drinking a Natty Boh (National Bohemian Beer) a famous brew in Maryland.
According to the State Board of Elections, there are 48 people living in Maryland who are 114 or older. Hmmmm, they must be doing something right; could it be the Natty Boh?
Many Maryland businesses, shopping malls, restaurants, and hospitals trust Park Inc to come up with solutions to their parking challenges. Whether it's parking lot management or personalized valet service, Park Inc will come up with a professional solution that takes care of both you and your customers.
We provide the following services in Maryland:
Parking Lot/Parking Garage Management Services
Hospital Patient Parking
Airport Terminal/Shuttle
Special Event Valet Parking
Hotel Garage and Valet Parking
Restaurant Valet Parking
Retail Shopping Mall Parking Management
At Park Inc our true desire is to provide solutions for our customers and their customers because let's face it you didn't get into business to worry about parking lot management. Park Inc takes care of your business's lot(s) so you can focus on what you do best.
Park Inc Coverage Areas in Maryland Include:
Annapolis, MD
Baltimore, MD
Columbia, MD
Dundalk, MD
Ellicott City, MD
Frederick, MD
Germantown, MD
Glen Burnie, MD
Rockville, MD
Silver Spring, MD
Waldorf, MD
Whether you need short-term help or long-term management, our professional staff will create a solution to meet your needs. Let Park Inc solve your parking issues. It's what we do.
Give us a call today and see how we can help!