Michigan – The Wolverine State, The Great Lakes State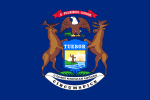 Michigan is a diverse state; home to the auto industry and an island that prohibits autos. It was the headquarters of Motown Records. Natural beauty is all around with parks, lakes, beaches and awe-inspiring waterfalls like Tahquamenon Falls that has a brown color to it because the Tahquamenon River that feeds the falls leaches tannins from cedar swamps. Michigan touches four of the Great Lakes.
Whether your business is a hotel, restaurant with valet parking, or you're in charge of a special event or festival, trust Park Inc to handle it. We offer professional parking services in some of the larger cities throughout Michigan:
Park Inc Coverage Areas in Michigan Include:
Detroit, MI
Grand Rapids, MI
Warren, MI
Sterling Heights, MI
Ann Arbor, MI
Lansing, MI
Flint, MI
Dearborn, MI
Livonia, MI
Westland, MI
Whether it's a concert, conference, wedding or private party, Park Inc can handle parking for your event. If you have a parking garage or a large lot, we have experience in parking lot management as well. We are ready to help your business whether it's a one-time job or a full-time contract. We hire professional, polite and experienced people to ensure your customers' cars are kept safe while they're away.
We provide the following professional parking services in Michigan:
Parking Lot / Parking Garage Management
Airport Parking
Hotel Parking Management
Hospital Valet Parking Service
Restaurant Valet Parking
Special Event Valet Parking
Retail Parking Management
Give yourself peace of mind when you hire Park Inc to create a management solution for your business whether that means a parking lot, parking garage, valet parking, or shuttle bus. We do it all so you can focus on your business.
Give Park Inc a call today and find out how we can help you!