Mississippi – The Magnolia State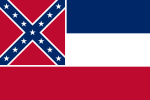 Mississippi was the 20th state to join the Union in December of 1817. Between the Mississippi and Yazoo Rivers lies the Mississippi Delta, home of the Blues. This state has produced some truly incredible musicians including: B.B. King, John Lee Hooker, Lead Belly and several others.
Jackson is the capital of the Magnolia State. The city is named after General (and future president of the US) Andrew Jackson in honor of his victory at the Battle of New Orleans in January of 1815.
Interesting tidbit: There's no definitive answer on how the word "Mississippi" became a way of counting seconds. Even people from England and Australia have admitted to using the word when counting, "one Mississippi, two Mississippi".
Park Inc is located in various cities throughout Mississippi. We're happy to use our expertise to create parking management solutions for your business.
Park Inc Coverage Areas in Mississippi Include:
Biloxi, MS
Clinton, MS
Greenville, MS
Gulfport, MS
Hattiesburg, MS
Jackson, MS
Meridian, MS
Olive Branch, MS
Pascagoula, MS
Southaven, MS
Tupelo, MS
Vicksburg, MS
Parking is an important part of everyone's day. Think about how many times you're in a parking lot. Whether at school, work, shopping, church, and more when we park our car we expect that it will be there when we return and in the same condition as we left it.
That's where Park Inc comes in. Whether a parking lot or parking garage management is your need, our team of experts can help determine a solution that will keep your company and your clients happy.
We provide the following professional parking services in Mississippi:
Airport Valet Parking and Shuttle Service
Arena Parking
Hospital / Health Center
Hotel Parking Management Services
Parking Lot/Parking Garage Management Services
Restaurant Valet Service
Retail Shopping Mall Parking Management
Whether you need short-term or long-term parking management Park Inc will help make your business more efficient by letting you focus on work while we handle the parking.
Give Park Inc a call today!