New Hampshire – The Granite State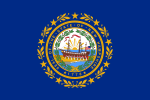 New Hampshire is nicknamed the Granite State because of its granite mining history. While there still are granite quarries, these days New Hampshire is better known for mining sand, gravel, and the occasional semiprecious stones.
This state is home to the highest point in New England. Mount Washington stands 6,288 feet tall.
It doesn't matter if you live here or are visiting, but New Hampshire's food scene is overflowing with deliciousness. Seafood is abundant. Also look for a lobster roll on the menu. Especially tasty in autumn when the leaves are ablaze with reds, oranges, and yellows are cider donuts, apple cider and maple sundaes.
If you own a New Hampshire business, restaurant, hospital, or other health care facility, you can trust Park Inc to create the best parking solutions for your business. We pride ourselves on valet parking, managing lots and garages so drivers get a smoother and more efficient parking experience. At Park Inc we have dedicated and experienced staff to handle any size parking job.
We provide the following professional parking services in New Hampshire:
Parking Lot / Parking Garage Management
Airport Parking
Hotel Parking Management
Hospital Valet Parking Service
Restaurant Valet Parking
Special Event Valet Parking
Retail Parking Management
Park Inc is located in cities throughout New Hampshire and we're happy to use our expertise to design a parking lot or parking garage management solution for your business.
Park Inc Coverage Areas in New Hampshire Include:
Concord, NH
Derry, NH
Dover, NH
Keene, NH
Manchester, NH
Merrimack, NH
Nashua, NH
Portsmouth, NH
Rochester, NH
Salem, NH
If you need a short-term or a long-term parking management solution for your business, Park Inc is ready to help you conquer your parking challenges to help make your business more efficient.
Give us a call today!