New York – The Empire State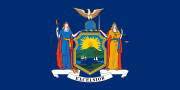 While New York City is one of the most thriving, cultured, and populated cities in the country, there are other interesting cities in New York State.
When someone says Buffalo you may think one of two things – snow and lots of snow. But there's also a little something called Buffalo wings that were invented in, you guessed it, Buffalo, NY.
Actually, Syracuse gets the award for the city with the highest annual snowfall averaging close to 120 inches a year. That's about 10 feet if you do the math!
Niagara Falls waterfalls are located on the border between Ontario, Canada and New York State. Every second 3,160 tons of water flows over the falls.
Whether you're working, visiting, eating out, or shopping, Park Inc has the parking solutions to fit your business. Short-term or long-term lots and garages? No problem! Valet parking or shuttle bus? No problem! At Park Inc we have a list of services from which to choose.
We provide the following professional parking services in New York:
Parking Lot/Parking Garage Management Services
Hotel Parking Management
Airport Terminal Parking/Shuttle Service
Hospital/Health Center
Retail Shopping Mall
Restaurant Valet Parking
Park Inc is located in cities throughout the great state of New York. We're happy to use our expertise to create a parking lot or parking garage management solution that works best for your business.
Park Inc Coverage Areas in New York Include:
Albany, NY
Buffalo, NY
Mount Vernon, NY
New Rochelle, NY
New York City, NY
Rochester, NY
Schenectady, NY
Syracuse, NY
Utica, NY
Yonkers, NY
Whether you need a short-term or long-term parking solution, our experienced staff can put together an efficient plan for your business.
Give Park Inc a call today and find out how!