North Carolina – The Tar Heel State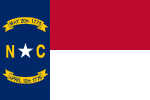 North Carolina has a lot to be proud of. Even though there is some debate on whether North Carolina or Ohio was the actual "First in Flight" state, the Wright brothers DID test their flying machine prototypes in Kitty Hawk, NC.
The Biltmore Estate in Asheville is called "America's largest mansion" and was built by George Washington Vanderbilt II in the late 1800s. People come from around the world to tour the estate and admire its architecture, colorful gardens and winery.
North Carolina's Outer Banks are a well-known and impressive sight, but even if you're not a beach person, there are plenty of spectacular mountains to hike or simply admire – the Great Smokey Mountains and the Blue Ridge Mountains.
Wherever you go, especially in the uptown/downtown areas of larger cities, parking is at a premium. So make the most of your business's lot when you contract with Park Inc. We're located in Charlotte, the most populated city in North Carolina.
We provide the following services:
Airport Parking
Hospital Valet Parking Service
Hotel Parking Management
Parking Lot / Parking Garage Management
Restaurant Valet Parking
Retail Parking Management
Special Event Valet Parking
Park Inc will take the worry out of parking for your business. Whether you need us at a one-time valet event or everyday commuter parking we're ready and willing to serve.
Short-term or long-term, our parking experts can come up with a plan to help you maximize space and dollars. We aim to keep your clients happy and their property safe.
Park Inc Coverage Areas in North Carolina Include:
Asheville, NC
Cary, NC
Charlotte, NC
Durham, NC
Fayetteville, NC
Greensboro, NC
Greenville, NC
High Point, NC
Raleigh, NC
Wilmington, NC
When you hire Park Inc to create a management solution for your business you can be confident knowing our employees have the experience your business needs whether that means valet parking, a parking lot, parking garage, or shuttle bus. We do it all so you can focus on your business.
Call Park Inc today and find out how we can help you!