Ohio – The Buckeye State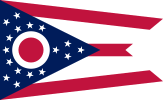 The state of Ohio got its name from the Iroquois Indians. Their word ohi-yo means "Great River." Ohio's nickname is the Buckeye State because buckeye trees produce small brown nuts that look like the eye of a deer.
For anyone who watched The Drew Carey Show, you know that Cleveland rocks because it's home to The Rock and Roll Hall of Fame.
Foods that are favorites here include buckeye candy – a peanut butter center surrounded by chocolate, chili dogs, corned beef, and paw paw. The paw paw fruit is so well loved in Ohio that they have festivals for it.
Whether you own an Ohio business, restaurant, hospital, or other health care facility, you can trust Park Inc to create the best parking solutions for your business.  We really enjoy making parking an easy and pleasant experience.
We provide the following services:
Airport Parking
Hospital Valet Parking Service
Hotel Parking Management
Parking Lot / Parking Garage Management
Restaurant Valet Parking
Retail Parking Management
Special Event Valet Parking
If your business needs anything – from parking lot management to personalized valet service, Park Inc will tailor a professional parking solution that takes the worry out of parking for both you and your customers.
Park Inc Coverage Areas in Ohio Include:
Akron, OH
Canton, OH
Cincinnati, OH
Cleveland, OH
Columbus, OH
Dayton, OH
Lorain, OH
Medina, OH
Parma, OH
Springfield, OH
Toledo, OH
Youngstown, OH
At Park Inc we manage all types of parking from valet parking and shuttle services to parking solutions for large hotels and world class resorts. We are ready to assist you with all your parking needs.  Whether it's a short-term solution, or a long-term parking management contract, our staff will tailor a package to meet your needs.  When your business uses Park Inc, you know you can concentrate on the business, and leave the parking to us.
Call Park Inc today for a free quote!