Oklahoma – The Sooner State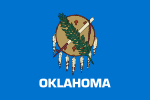 Oklahoma is the place "where the wind comes sweepin' down the plain". Too bad Rodgers & Hammerstein neglected to say those winds were in the form of tornadoes as Oklahoma has more tornadoes than any other state in the country.
The state was to be exclusively for Indians and even called Indian Territory, but in 1889, the land was opened to settlers (surprise) and on the opening day 50,000 settlers swarmed in. Those who got there before the noon starting gun were called Sooners.
Oklahoma is an intriguing state. There is of course the Indian influence as well as cowboys and rodeos, and oil – lots and lots of oil. As a matter of fact Oklahoma's state capitol building is the only capitol in the world that has an oil well under it.
For those who live and work in Oklahoma, Park Inc is a leading parking management company that serves clients in the state. We customize parking lot and parking garage management by drafting solutions that work for each individual company and lot.
At Park Inc, we strive to make parking an easy and pleasant experience. In this way we take the worry out of parking for both you and your customers.
We provide the following professional parking services in Oklahoma:
Parking Lot/Parking Garage Management Services
Hospital/Health Center
Hotel Parking Management Services
Airport Parking Lot/Parking Garage Management and Shuttle Service
Retail Shopping Mall Parking Management
Restaurant Parking Management
Special Event Parking:
Conferences
Corporate Events
Concerts
Sporting events
Weddings
Park Inc already has locations in numerous cities throughout Oklahoma. We have many years of experience that we use to create a parking lot or parking garage management solution for your business. Bottom of Form
Park Inc Coverage Areas in Oklahoma Include:
Oklahoma City, OK
Tulsa, OK
Norman, OK
Broken Arrow, OK
Lawton, OK
Edmond, OK
Moore, OK
Midwest City, OK
Enid, OK
Stillwater, OK
Regardless of your parking needs, Park Inc can manage everything from valet parking service for a small, family-owned restaurant to parking solutions for public arenas and everything in between. Whether it's a short-term solution or a long-term parking management contract, Park Inc will tailor a package to meet your needs.
Give us a call today for more information!