Pennsylvania – The Keystone State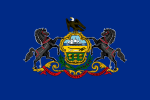 Pennsylvania is a land of rolling hills, lush, green forests, and acres upon acres of farmland. The state has a rich history with various countries and religions represented. It has the highest concentration of Amish in the America.
In the early 1600s it seems the ownership of the territory was widely disputed and it wasn't by American Indian tribes. The dispute broke out among the Dutch, the English and the Swedes. England was the lucky winner and acquired the region in 1664 with the capture of New York. In 1681 King Charles II gave Pennsylvania (previously part of New York state) to William Penn, a Quaker and because of all the forests (sylvan) that's how it got the name Pennsylvania.
A few interesting history facts here. Philadelphia was the seat of the federal government from 1776 to 1800. Philly was home to many events during the dawning of the US. The Declaration of Independence was signed there in 1776 and the Constitution was drawn up in 1787. The city is also home to the Liberty Bell and cheesesteak. Pittsburgh is known for manufacturing steel, which is how their NFL team got the name the Pittsburgh Steelers. Hershey, PA is the Chocolate Capital of the United States.
 Many Pennsylvania businesses, hotels, and restaurants trust Park Inc to devise expert parking solutions for them. Creating a smooth running parking lot or garage is our specialty. Whether you need parking lot management, personalized valet service, or anything in between, Park Inc can customize a professional parking solution that takes the worry out of parking for both you and your customers.
We provide the following professional parking services in Pennsylvania:
Parking Lot/Parking Garage Management Services
Airport Parking Lot/Parking Garage Management
Shuttle Service
Hotel Parking Management Services
Hospital and Medical Center Parking Management
Retail Parking Management
Restaurant Valet Parking
Special Event Parking
Park Inc strives to make every parking experience a good one for your customers. That way you can focus on what you do best – you business and your customers.
We have numerous locations in cities throughout Pennsylvania. We use our expertise gained over many years of experience to create a parking lot or parking garage management solution that works for your business. Bottom of Form
Park Inc Coverage Areas in Pennsylvania Include:
Allentown, PA
Bethlehem, PA
Erie, PA
Harrisburg, PA
Lancaster, PA
Levittown, PA
Philadelphia, PA
Pittsburgh, PA
Reading, PA
Scranton, PA
Whether your business or organization requires a short-term solution or a long-term parking management contract, our staff will tailor a package to suit your needs.  Leave the parking to Park Inc.
Call today to see how we can create a customized plan for your business.