South Carolina – The Palmetto State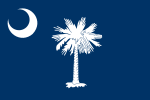 The often used term "the Carolinas" lumps north and south together, but South Carolina has a flavor all its own. The highest point in the state is Sassafras Mountain, and the coastal plains known as the "low country" are just above sea level.
A "low country boil" is a famous recipe from South Carolina and contains potatoes, spicy sausage, corn, shrimp, crab, and/or crawfish. The dish is similar to a Louisiana crawfish boil and also goes by the names: Frogmore Stew, Beaufort Boil, and Tidewater Boil. Whatever you call it, it's a delicious dish that has its origin in South Carolina.
The state is a mish mash of small towns, historic cities, beach towns, resort towns, and contemporary cities all thriving in one state.
Park Inc is a leading parking management provider headquartered in the "other Carolina". We are proud to serve our clients in South Carolina with tailored solutions for parking lot and parking garage management.
Making parking a simple and pleasant experience is what we consistently strive for. Whether you need parking lot management, personalized valet service, or shuttle bus drivers, Park Inc will design a professional solution to take the worry out of parking for you and your customers.
We provide the following professional parking services in South Carolina:
Airport Parking Lot/Parking Garage Management & Shuttle Service
Hotel Parking Management
Parking Lot/Parking Garage Management Services
Hospital/Health Center Parking
Retail Shopping Mall Parking Management
Restaurant Parking Management
Special Event Parking
Park Inc is located in cities throughout South Carolina. We're happy to use our expertise to create a short-term or long-term parking lot or parking garage management solution for your business.
Park Inc Coverage Areas in South Carolina Include:
Charleston, SC
Hilton Head Island, SC
Rock Hill, SC
Columbia, SC
Mount Pleasant, SC
Summerville, SC
Florence, SC
Myrtle Beach, SC
Sumter, SC
Greenville, SC
North Charleston, SC
Park Inc is experienced in parking lot management and we have the staff to handle the services your business needs. Whether it's managing valet parking for small, family-owned businesses or offering parking solutions for large public arenas and everything in between, Park Inc is ready to assist you with all of your parking needs. By using the parking experts at Park Inc, you can focus on your business, and leave the parking to us.
Give Park Inc a call today and find out how we can help!