Tennessee – The Volunteer State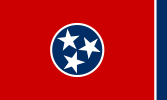 Tennessee is called the Volunteer State because it had a high number of volunteers at the Battle of New Orleans during the War of 1812. Nashville is the state capital, the country music capital of the world and home to the Grand Ole Opry, which is the longest running radio broadcast in US history.
Graceland, Elvis's Memphis home is the second most visited home in the country and there are quite a few other famous Tennessee natives including Aretha Franklin, Dolly Parton, Samuel L. Jackson, Justin Timberlake, and Morgan Freeman.
A trip to Tennessee must include the following gastronomical delights: fried pickles, sweet potato fries, barbecue, corn bread, biscuits and gravy, and sweet tea.
Park Inc is a parking management provider located in the Southeast. We're proud to serve our clients in Tennessee whether they need valet parking or a customized parking lot / parking garage management solution. Park Inc can take the pain out of parking for you so your customers can have a smooth and safe parking experience.
We provide the following professional parking services in Tennessee:
Airport Parking
Shuttle Service
Hospital Valet Parking Service
Hotel Parking Management
Parking Lot / Parking Garage Management
Restaurant Valet Parking
Retail Parking Management
Special Event Valet Parking
Park Inc is located in numerous cities throughout Tennessee. We use our experience and expertise to create a parking management solution for your business.
Park Inc Coverage Areas in Tennessee Include:
Bartlett, TN
Hendersonville, TN
Knoxville, TN
Chattanooga, TN
Jackson, TN
Memphis, TN
Clarksville, TN
Johnson City, TN
Murfreesboro, TN
Franklin, TN
Kingsport, TN
Nashville, TN
Park Inc is based in the Southeast and has vast experience in designing parking services for businesses large and small. We are ready to assist you with any and all of your parking needs. Our experienced staff will tailor a package to suit your needs and take the stress out of parking so you can get back to focusing on your business.
Give Park Inc a call today!