Vermont – The Green Mountain State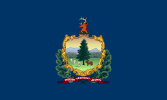 Perhaps it's all the snow that gives the mountains their green coats for spring and summer. Vermont gets its name from French explorer Samuel de Champlain who called the area "Verd Mont", meaning Green Mountain.
Montpelier is the capital of Vermont and has a population of less than 9,000 people making it the smallest capital in the US. Montpelier is also the only capital in America that has no McDonalds (insert gasp here).
Vermonters are independent people who strongly believe in each person's right to be free thinkers. Amidst all the beauty of Vermont's idyllic hills and valleys, independence and individualism run strong.
Vermont is known for certain comfort foods including maple syrup, Vermont cheddar cheese, and Ben and Jerry's ice cream. But that's not all. Fresh produce, wineries and breweries abound. Farmers' Markets and farm stands are in business all year.
Many Vermont restaurants, hotels and other businesses, trust Park Inc to provide expert parking solutions.  We provide everything from one time short-term parking or shuttle service for a special event to managing a parking garage.
Making parking a forgettable experience is what Park Inc strives for. We want your customers/guests to enjoy the event they're attending, not thinking about how they got caught up in a traffic jam and had to wait forever to get out of the parking deck! Park Inc tailors customized parking solutions that work for your business and your customers.
We provide the following professional parking services in Vermont:
Airport Parking Lot/Parking Garage Management
Hospital and Medical Center Parking Management
Hotel Parking Management Services
Parking Lot/Parking Garage Management
Restaurant Valet Parking
Retail Parking Management
Shuttle Services
Special Event Parking
Park Inc has locations in numerous cities throughout Vermont. We use our expertise gained over many years to create a parking lot or parking garage management solution for your business. Bottom of Form
Park Inc Coverage Areas in Vermont Include:
Burlington, VT
South Burlington, VT
Colchester, VT
Rutland, VT
Essex Junction, VT
Hartford, VT
Bennington, VT
Barre, VT
Williston, VT
Montpelier, VT
Park Inc can set up a parking lot/garage management plan with an experienced team so you can focus on the reason you went into business and leave the parking to us.
Call Park Inc today to learn how we can help you!