We've been offering best-in-class valet parking services to patients and guests at Parkwest Medical Center since 2002, and while we think are doing an excellent job, it is always nice to see good things about our company in print.  A recent article in Knoxville's Shopper News describes our valet services offered as "the best thing since sliced bread," which is lofty praise for a highly valued but seldom recognized group of professionals tasked with parking an average of 2,000 cars each week.
Parkwest was the first Knoxville area hospital to offer free valet parking as a value added service for patients and guests.  According to Tim Gaylord team leader of fleet and parking services, "We make the first impression of Parkwest for patients and guests."  Tim adds that it is important "to extend a smile and a warm greeting to everyone….you never know what that person is going through."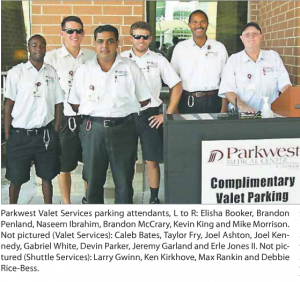 Offering valet parking service is an affordable and cost-effective way to outshine your competition and it is sure to make a lasting impression on your guests.  If you have considered valet parking but struggled to find the right company to serve as the first and last impression of your organization, consider park Inc.  We've been satisfying customers, one car at a time since 1994.  Want to learn more about offering valet parking services for your valued guests?  Visit us online at www.parkinc.com or contact a friendly parking management specialist for more information.