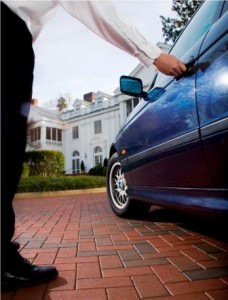 We all hear phrases like increased customer satisfaction and enhancing the customer experience.  As a consumer, these buzz words tell us that the management of establishments we patronize is looking to engage us in ways to make us loyal customers who will spread the good word to friends, colleagues, and family.  From a management perspective, high levels of customer satisfaction don't just make for good PR-it drives the bottom line.  For customer driven organizations, an enhanced customer experience begins before a guest or patient enters your front door; customer service begins at the front curb.  In today's fast paced and convenience-driven society, consumers of all kinds have come to expect a higher level of customer service.  Valet parking eliminates your customers' need to spend time searching for a parking space, navigating often crowded parking lots, and walking long distances in inclement weather.
Offering valet parking service shouldn't be seen as a business expense.  Viewing valet parking simply as another expense on a profit and loss statement is short-sighted. It truly is an investment in your business.  Regardless of whether your valet parking operation is a source of revenue generation, premium parking services, even when provided as a loss leader, create satisfied customers.  Valet parking creates a positive first and last impression, and happy customers are more likely to spend more time at your establishment.  Satisfied patrons spend money, become repeat customers, and recommend your business to others.
With all of this in mind, what is holding you back?  What business owner doesn't want to enhance the customer experience?  Although each parking situation is unique, the objections we hear from potential clients about offering valet parking follow a few common themes:
We tried valet parking before and it didn't work.
We are too small (or too large) to receive a good return on investment by offering valet service.
We don't have a lot nearby to use as part of a valet program.
We have concerns over financial liability.
All of the valet parking companies we contact look and sound the same.  How can we tell which company will best serve our needs?
 We don't have the in-house staff to man a valet parking program.
Valet parking is too expensive.
If one or more of these themes sounds familiar, chances are good that your problem lies not with the concept but picking the right partner.  At Park Inc, we specialize in parking management solutions—it is what we do every day.  We have over 20 years of valet parking experience and professionally trained staff that will keep your guests coming back, time after time.  Valet parking programs are easy to implement when partnering with a company that understands what it takes to offer world class standards of customer care.  Create lasting first impressions and legions of satisfied customers with valet parking while watching your bottom line grow.  To learn more about valet parking services, or to discuss your needs, contact the parking management professionals at Park Inc for a no-obligation quote today.